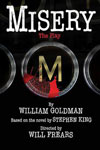 Misery
Broadhurst Theatre
Kaina nuo € 118.40
Two-time Emmy Award winner and Golden Globe Award winner Bruce Willis makes his Broadway debut alongside three-time Emmy Award winner Laurie Metcalf this fall in the new play Misery, an edge-of-your-seat suspense thriller.

Highlights:
- Get your tickets for the nerve-wracking thriller Misery
- Experience Bruce Willis live on stage
- Limited run - 16 weeks only
- Based on a Stephen King novel
- Choose your own seats

Experience Bruce Willis Live on Broadway
Following an almost fatal car accident, a world-famous novelist finds himself in a strange house being nursed back to health by his doting, self-proclaimed Number One Fan. But as her love for his work turns to dangerous obsession, he realizes he must plot his greatest story yet: how to escape with his life.

The stage version of Misery is based on the popular novel by Stephen King and has been adapted for the Broadway stage by two-time Academy Award winner William Goldman.

Misery plays a strictly limited run of 16 weeks only, so make sure to get your tickets.

How do I get my tickets?
Shortly after your booking is complete, you will receive an e-ticket by email. Please print out your ticket and bring it with you to the theater.