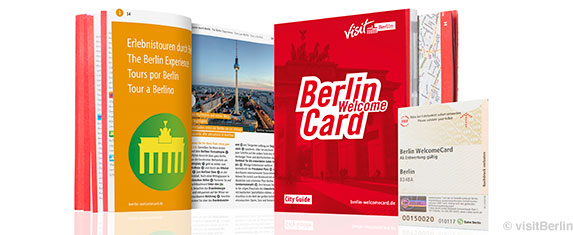 Refundable tickets

Pigiausios kainos pasiūlymas

Perkamiausias









Berlin WelcomeCard
Enjoy unlimited use of public transportation with a Berlin WelcomeCard! With this card you get discounts of up to 50% at many museums, guided tours, restaurants, theatres and attractions. When it comes to travelling, you choose the zones (either AB or ABC) and for how long you wish to use the Berlin WelcomeCard.
Įsigyti dabar
Fantastic:
4.5
– 367

Atsiliepimai
Refundable tickets Refundable tickets
Refundable up to 48 hours before performance date. A cancellation fee of up to 20% pr. ticket may apply
Pigiausios kainos pasiūlymas Pigiausios kainos pasiūlymas
Jei per 48 valandas nuo užsakymo atlikimo rasite geresnę šio produkto kainą, mes grąžinsime visą kainos skirtumą.
Kas įtraukta?
- Unlimited use of public transportation in either fare zones Berlin AB or zone ABC.
- Card valid for either 48 or 72 hours - or 4, 5 or 6 days.
- Up to 50% discount.
- A pocket guide with tour suggestions and a city map.
- Bring up to 3 children of the age of 14 and under - they travel free of charge.
Pagalba anglų kalba

521 406 67
Reikia pagalbos? Susisiekite, atsakysime visus su užsakymu susijusius klausimus.